Inclusion News Updates
November 2017,  Harm Reduction V's Recovery
Sometimes we talk about harm reduction and recovery as if they were separate things. We would like to propose that this is an outmoded way of thinking that needs properly kicking into touch. In  Inclusion we think of harm reduction and recovery assitting along a CONTINUUM of increasing safety, self-efficacy and independence. Harm gradually reduces and people gradually need less help from services….Read our article to find out more…
August 2017 – International Overdose Awareness Day
At the end of August there was International Overdose Awareness Day.  There were events across Inclusion and given the rising numbers of drug related deaths across the country it was really important to make sure that the basic harm reduction
message was shared as widely as possible.
See Howard's message to Inclusion staff "We talk a lot about recovery but our first job should always be to keep people safe. It is why we run needle exchange schemes, it is why we have led the way in naloxone distribution and it is why we are working hard to help reduce infection rates for BBVs. To achieve recovery people need to be safe first and this applies to both IAPT and mental health services. Safety is the core of what we do and we should make sure we never lose sight of this."
July 2017 – Naloxone Training for a Rotary Clubs
On Monday the 24/7/17 Dr Carola Sander-Hess was invited to present Inclusion's innovative work with regards to Naloxone to the 2 local Rotary Clubs in Leicestershire. A total of 42 Rotarians attended and also received Naloxone training during this session, which was well received by both clubs. There was a great amount of interest from the Rotarians during question time and quite a few who are involved with other organisations i.e. Community First Aiders went away saying they would ask their teams to look at Naloxone. Great result!
July 2017 – Prison award for HMP Swinfen Hall Integrated Mental Health and Substance Misuse Team
Recovery Workers at HMP Swinfen Hall Mark Painter, Katie Harrod and Gemma Evans received an award from the prison for 'Partner of the month' for 'Excellent Team Performance '. This was due to their hard work and support around NPS which has seen a recent increase in use at Swinfen Hall. The narrative for the nomination reads as follows: "At a time when we have been experiencing a significant increase in NPS use throughout Swinfen Hall, The Substance Misuse Team have continued to respond and see those suspected of being under the influence in a timely way. This is despite a significant reduction in staffing resources and being without a regular Psychosocial Lead for a number of months. They have shown professionalism, initiative, resourcefulness and commitment to the needs of our most challenging and complex individuals at Swinfen Hall" Well-deserved recognition for a great team!
June 2017 – Faculty of Public Health Exhibition
Inclusion exhibited at the Faculty of Public Health conference on 20th and 21st June.  
This was a great opportunity to showcase the public health initiatives taking place within Inclusion services and share best practice ideas and knowledge with interested parties.  We met lot's of interesting people, we were hoping for the award for best stand with our Naloxone impact board, but lost out to an organisation called Noah's ART, we couldn't compete with live animals, the Guinea pigs were too cute!
June 2017 – Trust Service User & Carer Awards, Inclusion Hampshire winners again!
June saw SSSFT's annual Service User and Carer Awards ceremony which saw Brian Stuebs win the Service User and Carer Awards 2017 in the category of Volunteering for the well-being of people who use Trust services and/or their carers.  Linda Tooth also won the runner up prize in this same category.  This is a fantastic achievement for them both and Inclusion Recovery Hampshire and it is the second year running IRH have won the category!
June 2017 – HMP Wakefield Psychosocial team
On 1st June we welcomed the psychosocial staff at HMP Wakefield into the fold.  We have been delivering the psychiatry element of the service since 1st April 2016, and look forward to developing the integrated pathway of mental health and substance misuse provision moving forward.
May 2017 – Inclusion Thurrock rewarded for excellent 1st year performance
Excellent news this month from Inclusion Thurrock (IAPT) service, whilst only being part of Inclusion for just over a year, it has gone from strength to strength. They have achieved over the 15% access rate and 50% recovery rate alongside meeting the 6 and 18 week waiting time standard, the best performance in the local area. This is a remarkable feat for the first year of operation and it was fantastic that the team could receive that feedback directly from the senior team of the Trust. They were visited by he Chair, Martin Gower and the Chief Exec Neil Carr alongside the Director of psychological services Dr Rachel Lucas and accompanied by Head of Inclusion, Howard King.
May 2017 – Offering psychological therapies to those involved in recent trauma
Our staff at Inclusion Matters Wirral have been providing support to those affected by the New Ferry explosion.  The service has been thanked by the Head of NHS Crisis Care for our rapid and effective intervention following the New Ferry explosion. They have also been offering an emergency service to Wirral residents effected by the Manchester terror attack.
April 2017 – Inclusion Visions Thurrock
On the 1st April, we welcomed the new team for Inclusions Visions Thurrock, a drug and alcohol service for adults within Thurrock.  This is a great opportunity within Thurrock, as Inclusion already provide both the psychological therapies service (IAPT) and the new and exciting recovery college.  To find out more please visit the website Visions (drug & alcohol service), Inclusion Thurrock (IAPT) and Recovery College.
March 2017 – South Staffordshire & Shropshire NHS Foundation Trust CEO Monthly Blog
Neil Carr talks about Inclusion and the work they do in his monthly blog.  This shows the value that he and the Trust Board attach to the work that Inclusion do and the value they bring to the wider Trust. It also shows the importance that Neil as Chief Executive, attaches to Inclusion and show the commitment that the Trust has to us moving forward.
March 2017 – Top results in the NHS Staff Survey
As a Trust we are celebrating significant improvements in our latest National Staff Survey Results!  We have scored above average in most Key Findings Nationally against all other Mental Health and Learning Disability Trust's.  In addition, based on a review and analysis of the 32 key findings from the 2016 survey, produced by Picker Europe, SSSFT is the top performing Mental Health and Learning Disability Trust on the scatter Map produced by Optimise Limited in their recent blog, available below.  This map shows SSSFT in the top right hand cover, highlighting that our Trust's Leadership and Culture is significantly improving against our peers in the eyes of our staff, and the overall best positive trend year-on-year.  Not only that but SSSFT has the best Staff Survey results across all types of Trust, including acute and community.  This culture shift and positive trend / performance is all thanks to the staff at all levels that work at SSSFT, we all know that high quality patient care is at the centre of everything that we do, but in order to deliver the greatest standard of care, we as staff we need to feel motivated, valued, engaged and able to contribute to improvements in our areas of work which is evident within SSSFT.  Please be encouraged to watch our staff survey results video below which highlights the journey we have been on as a Trust over the last five years why the survey is important to our staff and our patient outcomes.
February 2017 – Naloxone and a winning attitude!
The team have been working hard raising the profile of Naloxone and the importance of training the service user, loved ones, family members as well as professionals such as hostel workers.
There is an article by Catherine Larkin (Head of Quality & Performance) and Danny Hames (Head of Development) in the February edition of the DDN Magazine.
February 2017 – A thought provoking letter…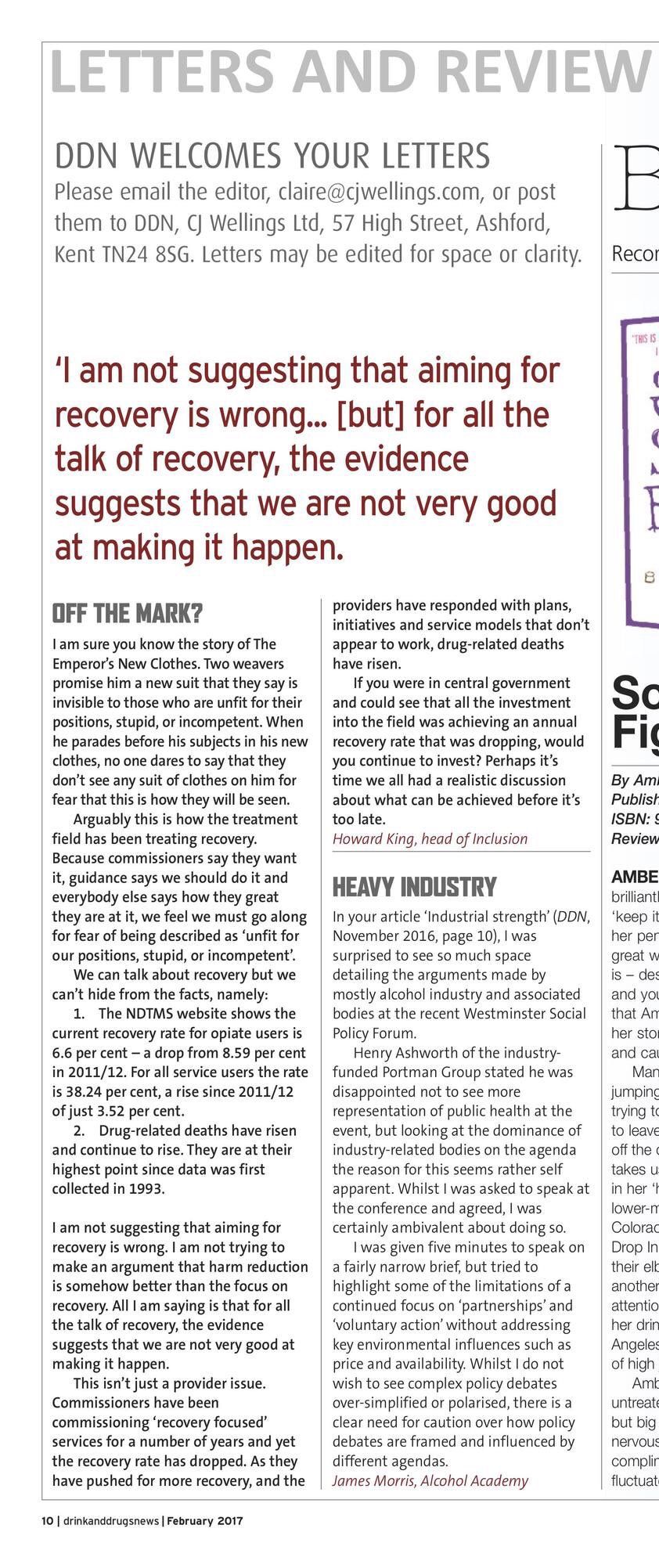 Howard King (Head of Inclusion) wrote and interesting letter published in February's edition of the DDN magazine, this will hopefully encourage discussions around the national trends on both recovery rates and drug related deaths
December 2016 – Catherine on air…
Catherine Larkin (Head of Quality & Performance) appeared live on air on BBC Radio Solent to raise the profile of the importance of Naloxone and shared Inclusions experience of training and distributing naloxone since 2009! Listen here..
November 2016 – HSJ Patient Safety Award Winners
The teams hard work, dedication and passion for promoting the training and use of naloxone was rewarded with the HSJ Patient Safety Award.  

Inclusion are the first organisation to develop and implement a protocol approved by RCGP SMMGP to save lives by supplying Naloxone to reverse the effects of drug overdose in line with the new 2015 legislation. This pioneering service which is saving both lives and money was awarded the 2016 Patient Safety  Health Service Journal Award.