NHS launches new Specialist Gambling Services for the East of England
The East of England Gambling service launched today to people living in the region who are experiencing the negative impact of gambling.
The service, which is a collaboration between CNWL and Inclusion (MPFT), brings together two NHS trusts with extensive experience and expertise in providing specialist gambling treatment.
The service is keen to offer an 'open-door' approach and welcomes both self-referrals and professional referrals.
The service has a large footprint, covering:
Bedfordshire
Luton
Milton Keynes
Cambridgeshire
Peterborough
Hertfordshire
West Essex
South Essex
Mid-Essex
North East Essex
Norfolk
Waveney
Suffolk
Consultant Clinical Psychologist and Clinical Lead, Steph Uprichard said:
"We are thrilled to be here and ready to launch the service today.  We welcome people to check out our website or give us a call if they have questions about the service.  We are here to help people who are struggling with their gambling, as well as to help those who are being impacted by a loved one's gambling.  Even if you aren't sure if you have a problem, and you would just like a chance to explore it please get in touch! We have a great team who can offer a comprehensive initial consultation, practical advice on techniques to help you stop gambling, specialist cognitive behavioural therapy, couple and family therapy and support for people who have gone through similar experiences."
The launch has been welcomed by all parties involved.
"I am delighted and grateful that NHS England have delivered early on their 2019 long-term plan pledge to expand gambling treatment clinics from the only one, which I ran for over a decade, to now fifteen in all across the country.

Gambling Disorder deserves parity of esteem with other addictions and with other mental health disorders. We are on our way to achieving this with 3000 treatment episodes a year for the NHS network. Gambling Disorder is no longer a hidden addiction now the NHS has intervened".

- Professor Henrietta Bowden-Jones OBE, Founder and Director of CNWL's National Problem Gambling Clinic and The National Centre for Gaming Disorders
Teresa Wirz, CNWL's Head of Addictions said:
"We are thrilled to be working with Inclusion to help people in eastern England overcome their problems with gambling.
CNWL is vastly experienced at running successful gambling clinics and we're looking forward to building on the strong relationships we already have in the region in order to deliver an effective and patient-focussed service."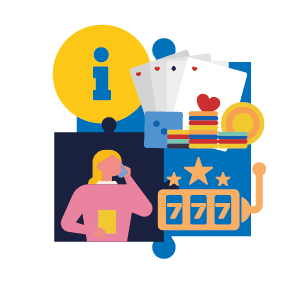 "The Inclusion/MPFT team are delighted to working with CNWL colleagues to provide the East of England Gambling Service.

We bring years of experience providing psychological services nationally and are really excited to work with service users who wish to change their gambling behaviour.

We look forward to supporting service users and families across the East of England."

- Paul Evans, Inclusion's Operational and Development Lead
For more information on the East of England Gambling Service, please click here
or download the leaflet here.