Inclusion News Updates
April 2017 – Inclusion Visions Thurrock
On the 1st April, we welcomed the new team for Inclusions Visions Thurrock, a drug and alcohol service for adults within Thurrock.  This is a great opportunity within Thurrock, as Inclusion already provide both the psychological therapies service (IAPT) and the new and exciting recovery college.  To find out more please visit the website Visions (drug & alcohol service), Inclusion Thurrock (IAPT) and Recovery College.
March 2017 – South Staffordshire & Shropshire NHS Foundation Trust CEO Monthly Blog
Neil Carr talks about Inclusion and the work they do in his monthly blog.  This shows the value that he and the Trust Board attach to the work that Inclusion do and the value they bring to the wider Trust. It also shows the importance that Neil as Chief Executive, attaches to Inclusion and show the commitment that the Trust has to us moving forward.
March 2017 – Top results in the NHS Staff Survey
As a Trust we are celebrating significant improvements in our latest National Staff Survey Results!  We have scored above average in most Key Findings Nationally against all other Mental Health and Learning Disability Trust's.  In addition, based on a review and analysis of the 32 key findings from the 2016 survey, produced by Picker Europe, SSSFT is the top performing Mental Health and Learning Disability Trust on the scatter Map produced by Optimise Limited in their recent blog, available below.  This map shows SSSFT in the top right hand cover, highlighting that our Trust's Leadership and Culture is significantly improving against our peers in the eyes of our staff, and the overall best positive trend year-on-year.  Not only that but SSSFT has the best Staff Survey results across all types of Trust, including acute and community.  This culture shift and positive trend / performance is all thanks to the staff at all levels that work at SSSFT, we all know that high quality patient care is at the centre of everything that we do, but in order to deliver the greatest standard of care, we as staff we need to feel motivated, valued, engaged and able to contribute to improvements in our areas of work which is evident within SSSFT.  Please be encouraged to watch our staff survey results video below which highlights the journey we have been on as a Trust over the last five years why the survey is important to our staff and our patient outcomes.
February 2017 – Naloxone and a winning attitude!
The team have been working hard raising the profile of Naloxone and the importance of training the service user, loved ones, family members as well as professionals such as hostel workers.
There is an article by Catherine Larkin (Head of Quality & Performance) and Danny Hames (Head of Development) in the February edition of the DDN Magazine.
February 2017 – A thought provoking letter…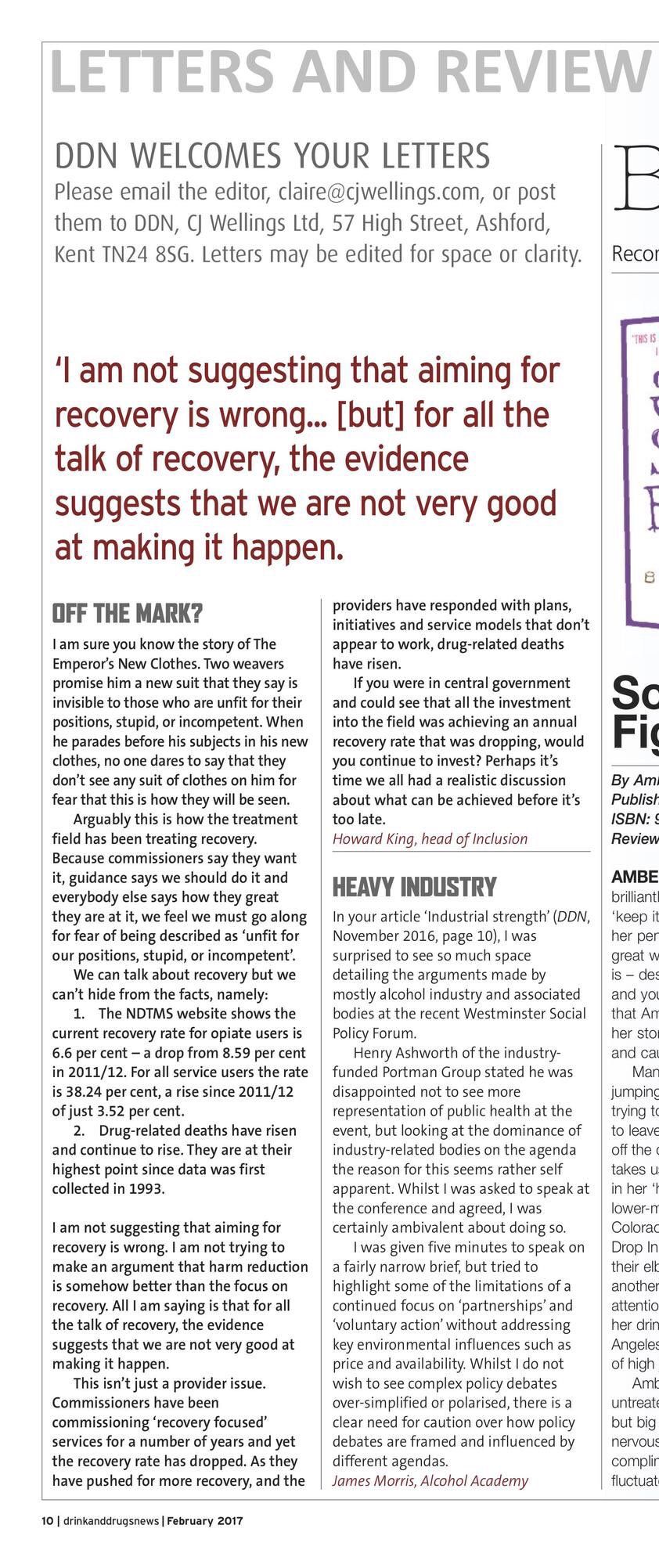 Howard King (Head of Inclusion) wrote and interesting letter published in February's edition of the DDN magazine, this will hopefully encourage discussions around the national trends on both recovery rates and drug related deaths
December 2016 – Catherine on air…
Catherine Larkin (Head of Quality & Performance) appeared live on air on BBC Radio Solent to raise the profile of the importance of Naloxone and shared Inclusions experience of training and distributing naloxone since 2009! Listen here..
November 2016 – HSJ Patient Safety Award Winners
The teams hard work, dedication and passion for promoting the training and use of naloxone was rewarded with the HSJ Patient Safety Award.  

Inclusion are the first organisation to develop and implement a protocol approved by RCGP SMMGP to save lives by supplying Naloxone to reverse the effects of drug overdose in line with the new 2015 legislation. This pioneering service which is saving both lives and money was awarded the 2016 Patient Safety  Health Service Journal Award.